Transas WAVE
Awareness of how speed, trim, draught, and other parameters affect the fuel consumption is crucial if consumption it to be reduced. Wave is installed on the bridge and uses information from the vessel's navigation sensors, flow meter, engine data and emission sensors.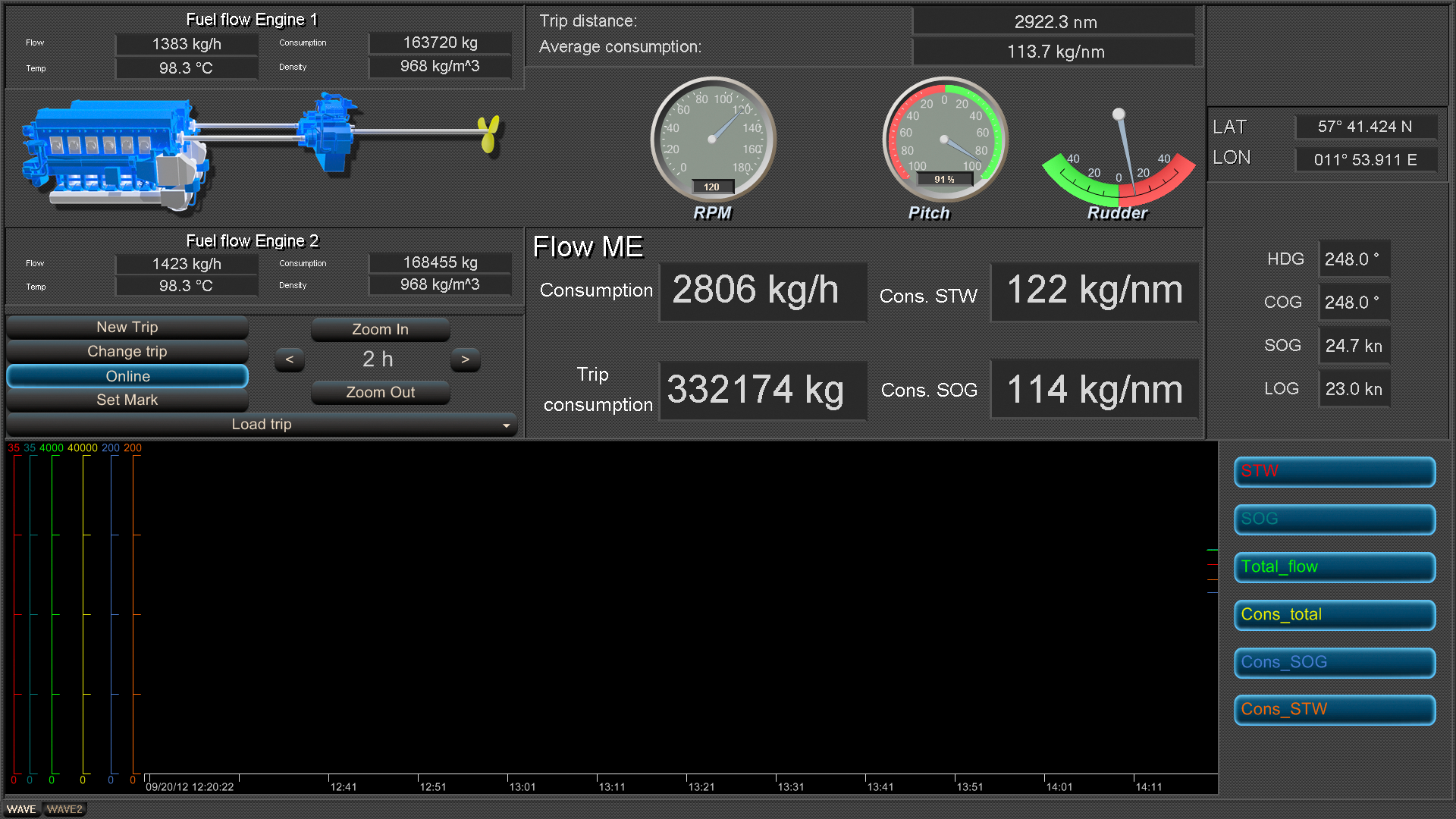 Minor changes generate major savings – Just making small changes to speed, trim and planned route, can lead to significant fuel savings and reduced environmental impact. Wave includes these, plus a range of additional parameters that can lead to savings of more than 5%. The most important factor, however, is that this information is presented clearly and gives instant feedback to your input. Saving fuel and reducing environmental impact is crucial in today's shipping industry. Rising fuel costs and an ever-increasing awareness of the factors affecting the environment mean that we must all take responsibility for minimizing consumption.
Shore Management - The ability to monitor and analyze the entire fleet from shore.
FLEET VIEW ONLINE
Using a single secure login users can:
monitor vessel location & surrounding weather conditions

manage ship security system & global piracy threats

manage all aspects of chart ordering for onboard ECDIS

monitor and analyse vessel efficiency using WAVE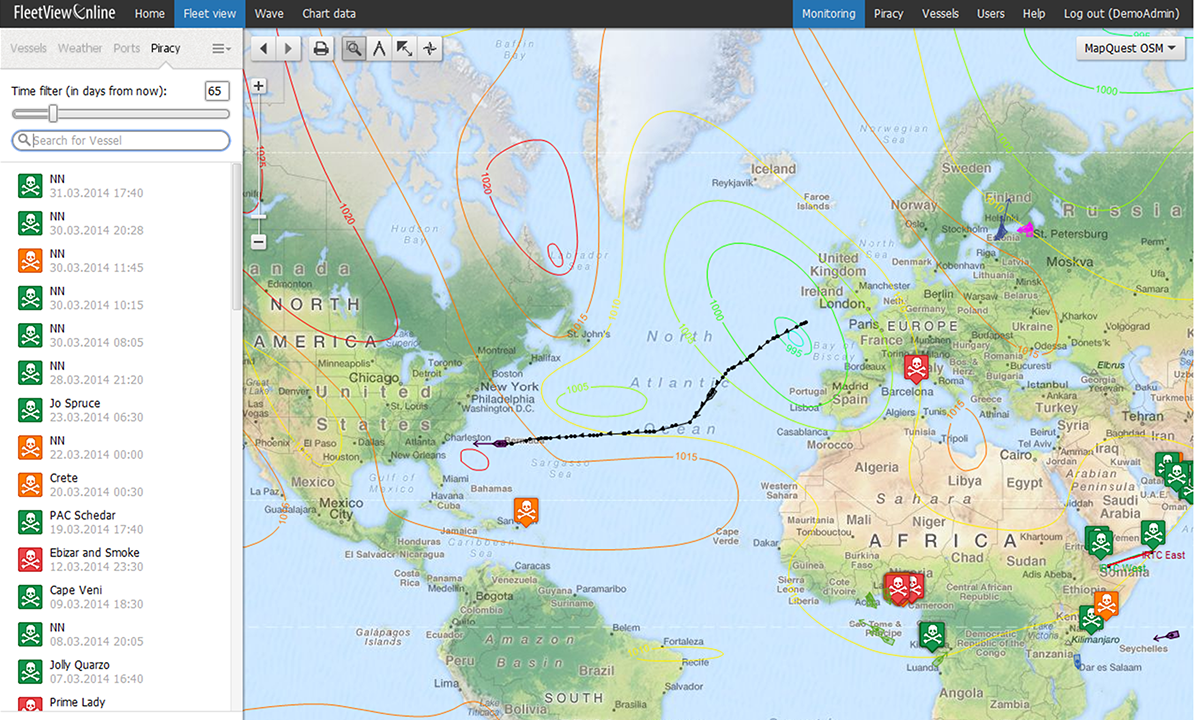 ---
Features
1. FLEET TRACKING
Managing your fleet is simple with Fleet Tracking. Using a combination of Inmarsat, FleetBroadband & AIS equipment, users can track their vessel's position at regular intervals.
Key Features:
Position report frequency from daily to every 10 minutes

On-demand polling and frequency re-programming

Display track history in graphical overlay or tabular format

Animated track history using Play Track

Position reports forwarded in email / HTML / NMEA formats

Voluntary forwarding of position data to AMVER to maintain global ship location picture for Search & Rescue operations

Tracking via Skywave, Inmarsat-C, Iridium, FleetBroadband or AIS sources
2. CHART AND DATA MANAGEMENT ONLINE
Chart and Data Management Online (CDMO) is a secure portal where shipping companies can see useful information about digital services in use on each fleet, such as costs, expiry dates etc.
Key Features:
Chart catalogue

Chart usage

Сhart costs

Chart expiry dates

Approve orders

View PAYS tracks

View PAYS reports
3. SHIP SECURITY
The FleetView Online 'Alert' service manages your vessel's ship security system, meeting all requirements of SOLAS chapter XI-2/6. Monitoring, testing and updating any SSAS system is fully managed through the intuitive user interface. FleetView Online supports SSAS management not only using Transas equipment, but also a wide range of SSAS terminals from various manufacturers.
Key Features:
Manage all SSAS equipment via single user interface.

Update vessel & alert information instantly via FleetView Online.

Up to three years historical log of SSAS/tracking reports.

SSAS alerts forwarded to email/SMS/fax/telex.

Test/Live SSAS alerts can be routed to different locations.
4. WAVE, FUEL EFFICIENCY MONITORING
Transas Wave provides automated monitoring of vessel fuel consumption & voyage information, allowing users to analyse and optimise fuel usage. Wave connects multiple flow, navigation and control sensors, providing a detailed picture of vessel performance and historical data analysis.
Key Features:
Online presentation of performance data in graphical and numeric form for each vessel.

Monitoring of fleet and vessel performance with the possibility to set performance indicators like ETA/average speed/consumption (kg/nm) for the voyage.

Record and present historical data up to 12 months (standard) for analyses and comparison of different trips and ships.

Vessel dash board for easy monitoring of fleet performance.

Presentation of ships position in the Navigational chart.
5. PIRACY INFORMATION OVERLAY
The Transas Piracy Information Overlay brings you credible piracy intelligence from recognised global sources.The PIO data service is automated and updated at a minimum of 24 hour intervals.
Key Features:
Displays date, time, location and severity of event.

Filters by number of days or by vessel.

Updated daily with the latest global events.

Overlaid with vessel location and weather data.

Available for administrator and all sub-accounts